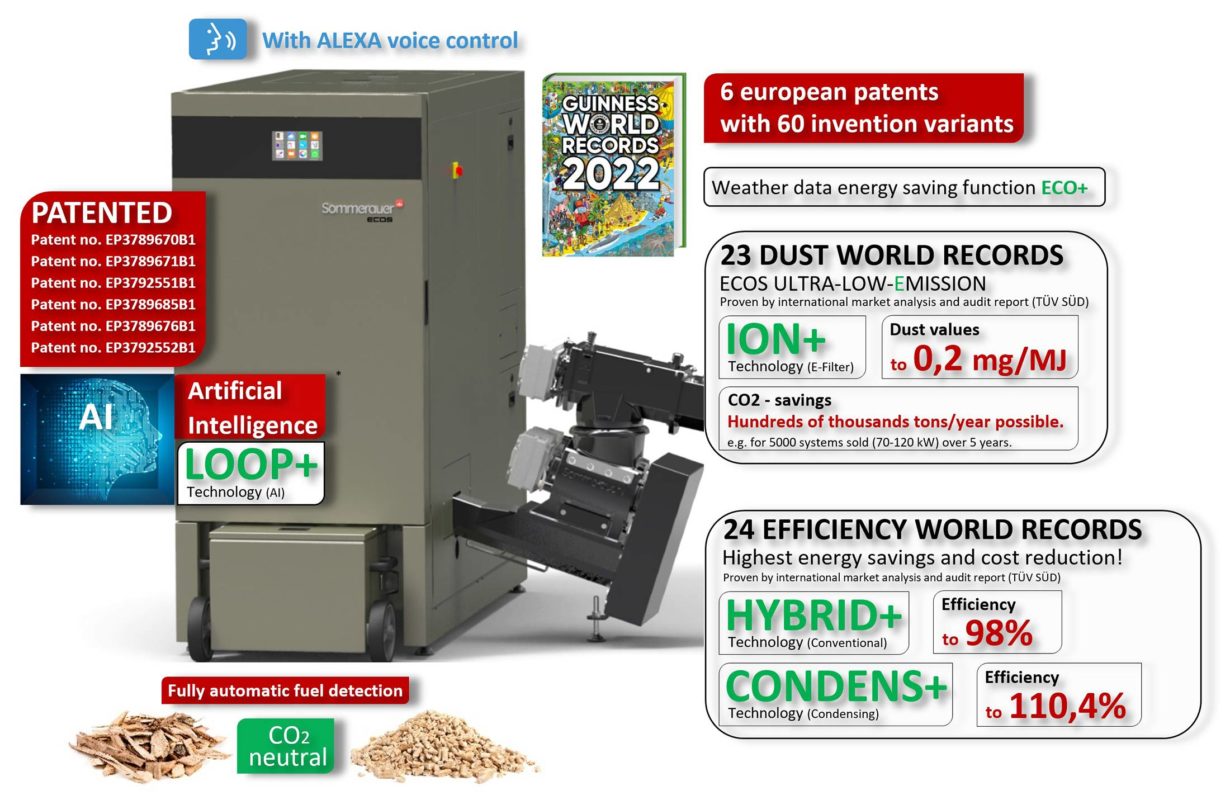 Sommerauer achieves a total of
47 official TÜV SÜD world records
for dust and efficiency
Hybrid biomass boiler ECOS achieves 23 dust world records (up to 0.2 mg/MJ) and 24 efficiency world records (up to 98% conventional, up to 110.4% condensing) in TÜV SÜD boiler tests, as verified by test reports and international market analysis reports by TÜV SÜD.
In the meantime, 6 European patents with 60 invention variants have been granted by the European Patent Office for the ECOS technology.
With a newly developed artificial intelligence (AI) LOOP+, the boiler functionalities of the ECOS are continuously innovatively improved.
to the post
more news
Cordially welcome
at Sommerauer®
Welcome to the Sommerauer family business!
We are pleased that you rely on biomass for your heating and would like to inform you about our products. We combine tradition and down-to-earthness with the latest, innovative technologies. For our family business, you as a customer are the focus. We want to make your everyday life easier with innovations and intelligent product solutions. We are constantly working on developing new technological improvements and successfully making them available to you. High quality, good service, customer satisfaction and individual special solutions have been the hallmarks of the Sommerauer family business for 30 years. 
Most modern ease of use through, among other things, the BIONIC user interface with smartphone technology and 3D graphics with real-time data on the user interface, voice control of the biomass heating system via Amazon Alexa, the most intelligent ECO-Smarttronic+ control system with SmartHome connection, the WIZARD+ software commissioning assistant, the intelligent ECO+ weather data energy-saving function, the modular drawer technology of the heating system, which enables 70% faster servicing, are just some of the many other innovative highlights of our products. 
With ECOS technology, we set a new benchmark in terms of the world's highest efficiency levels (24 efficiency world records: up to 98% conventional, up to 110.4% condensing), the world's lowest dust levels (23 dust world records: down to 0.2 mg/MJ), artificial intelligence (AI: LOOP+) for 8 essential boiler functions, which ensures energy efficiency, process reliability and significant cost reduction, as well as many other patented innovations. The efficiency and dust world records have been proven with boiler test measurement results and market research reports by TÜV SÜD. Developed with state-of-the-art CFD simulations, the ECOS shows its strength in the most important areas of PERFORMANCE, ENERGY EFFICIENCY, INNOVATIONS, FLEXIBILITY, RELIABILITY, HIGHEST OPERATING COMFORT and DURABILITY. 6 European patents officially granted by the European Patent Office with 60 invention variants and a multitude of other patent applications underpin the uniqueness of ECOS technology. Benefit from the GUINNESS WORLD RECORDS world champion, efficiency and dust world champion ECOS with state-of-the-art biomass hybrid technology, which uses artificial intelligence (AI) LOOP+ to realise not only today, but already tomorrow in a highly efficient way. 
Your needs at the centre
Your needs are the focus of our interest. After all, your heating system should be easy to operate, perfectly adjusted and extremely easy to maintain. In doing so, we increasingly rely on the latest digitalisation and innovations.
Competent advice on site
We will be happy to advise you on site with our Sommerauer base partners to help you select the optimum biomass heating system, the best possible subsidy and individualised room layout. We have been specialising in individual special solutions for 30 years.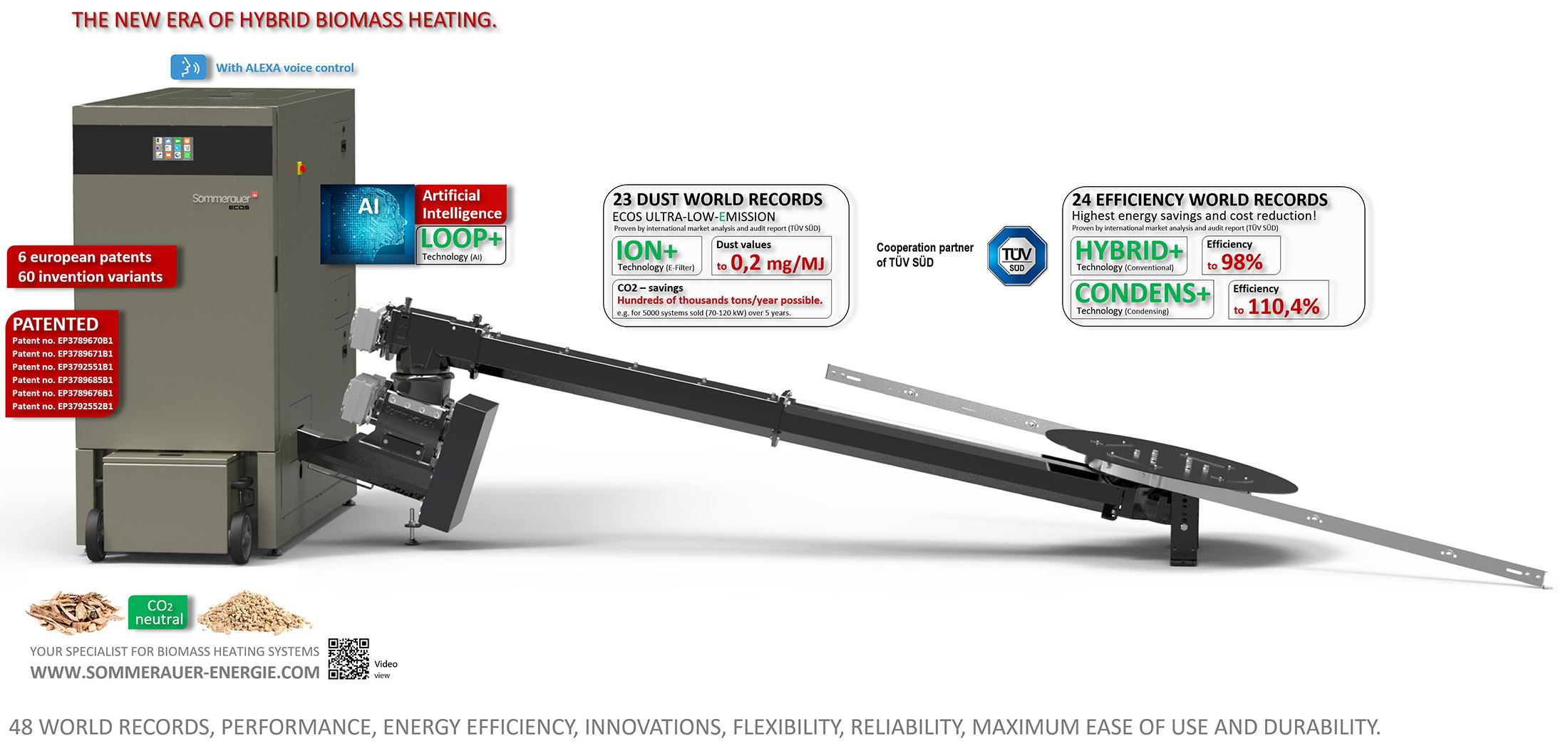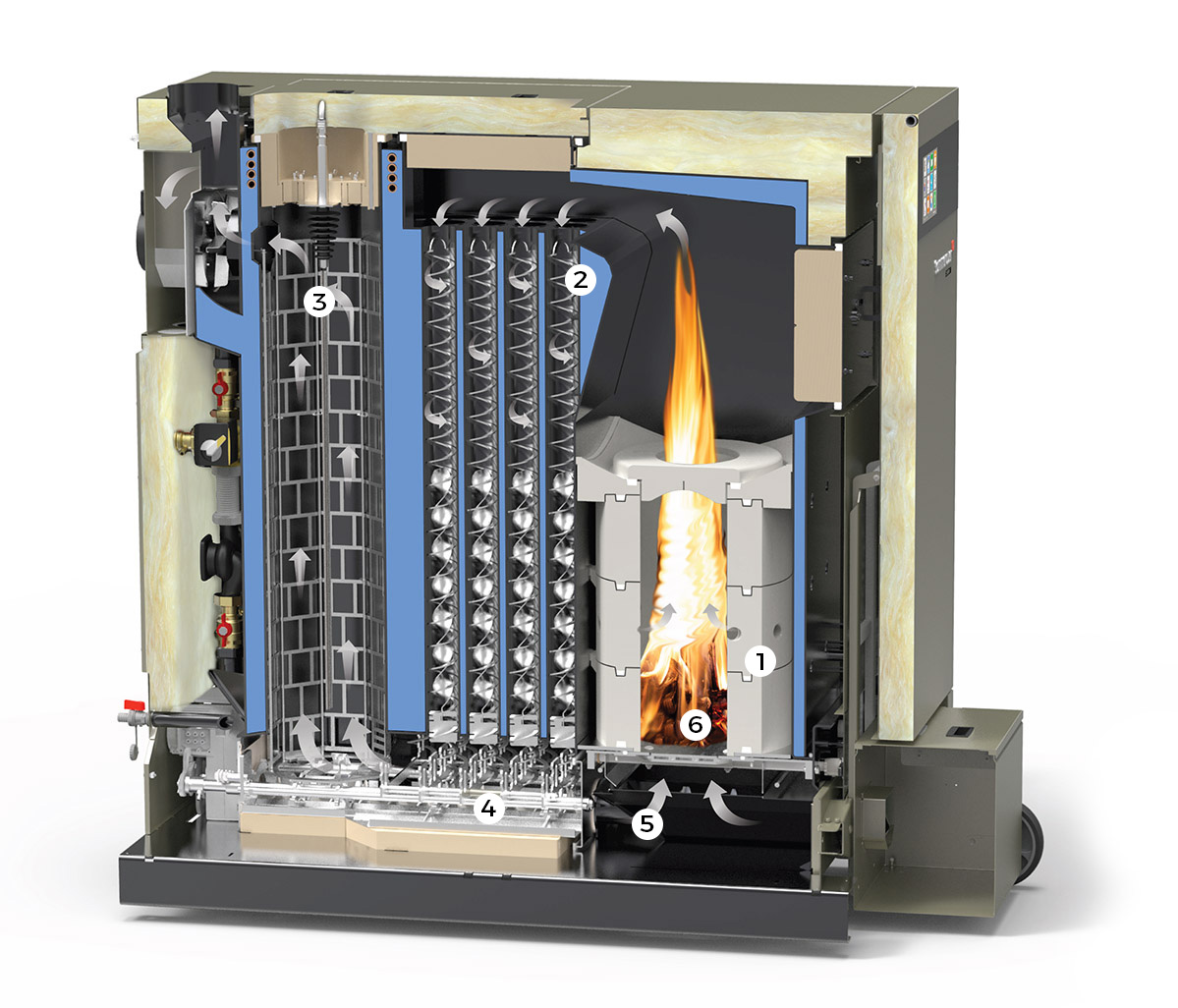 Advantages of the new ECOS technology:
Most modern hybrid biomass boiler ( pellet/wood chips) with highest ease of use (intelligent control ECO SMARTTRONIC, ALEXA- voice control (VOICE CONTROL+), software commissioning assistant WIZARD+, smartphone 3D user interface with 3D icons displaying real-time data and 3D objects (BIONIC+), video manual and digital operating instructions, Sommerauer app with 1:1 full access, SmartHome Loxone (ECO SMARTHOME+). 

Extensive patent portfolio: Patented USPs as global competitive advantages, covering both ease of use and technical fields. 6 granted European patents with 60 invention variations and a large number of European patent applications (optionally also protectable worldwide with PCT applications). 

24 efficiency world records (conventional up to 98% efficiency, condensing up to 110.4% efficiency). Proven with market analysis report and boiler test report from TÜV SÜD Austria. 

23 dust world records (up to 0.2 mg/MJ). Proven with market analysis reports and boiler test reports from TÜV SÜD Austria. This makes the ECOS verifiably the most energy-efficient and at the same time the cleanest hybrid biomass boiler in the world. Highest energy efficiency and maximum subsidies can thus be implemented. 

Fully automatic fuel detection and control (ECO AUTOMATIC FUEL+). 

Artificial Intelligence (AI) LOOP+. 

High cost efficiency of the biomass boiler (variable sales price due to modular design, common parts in use). 

Official GUINNESS WORLD RECORDS world record as the most energy-efficient hybrid biomass heating system in the world (98% efficiency, pellets). 

Weather forecast energy saving function (ECO+). 

Maximum CO2 savings realisable in the biomass heating market. 
EUROPEAN PATENTS

Sommerauer® with ECOS® patented several times.
.
AWARDS
Sommerauer® with ECOS® awarded many times.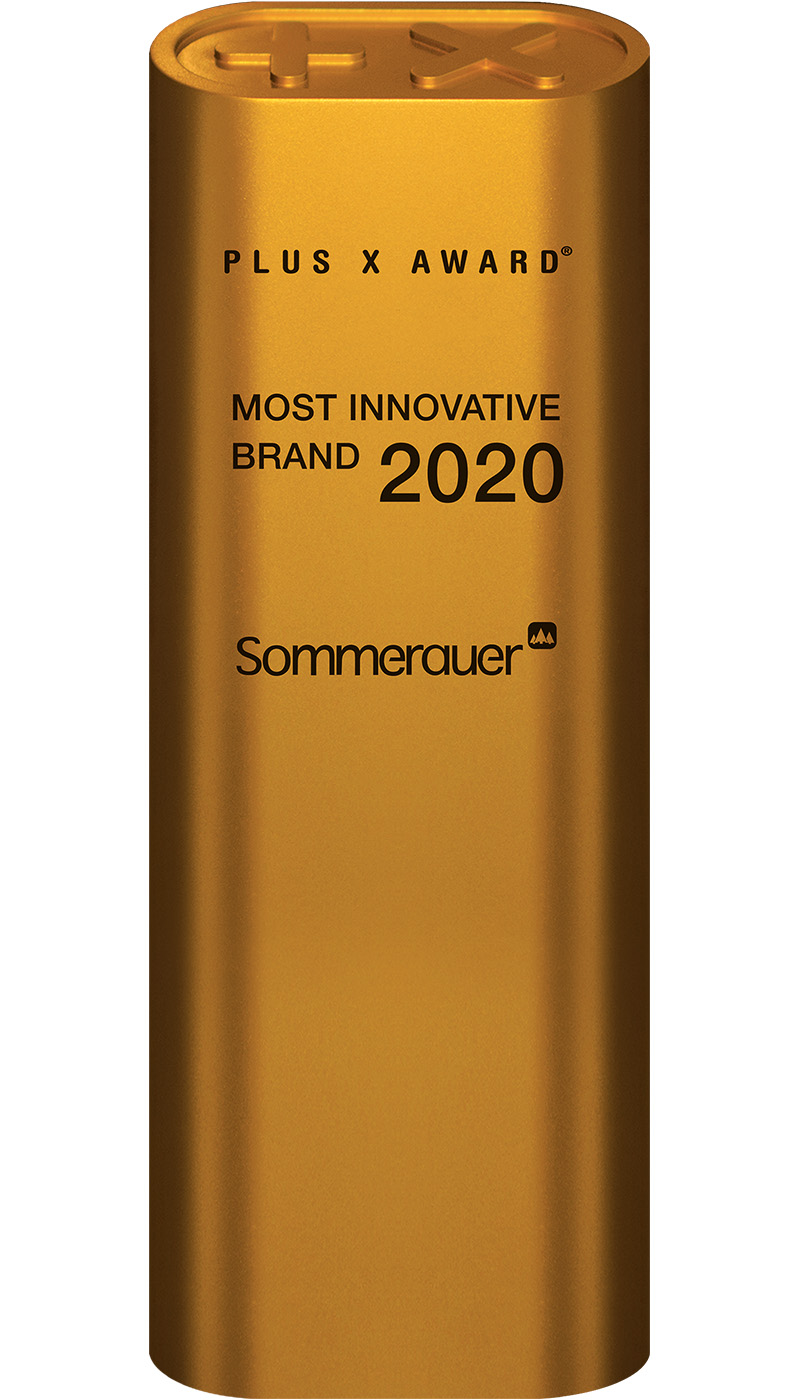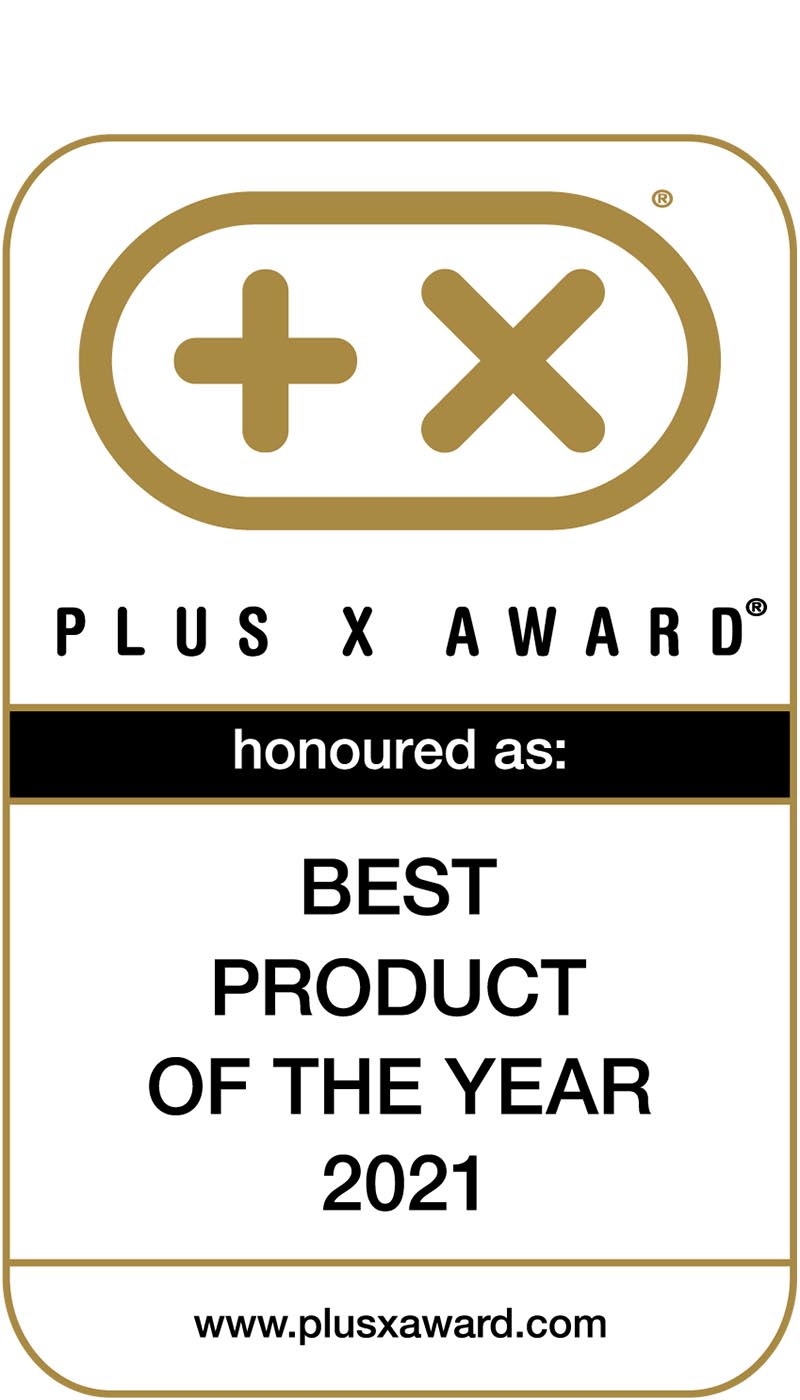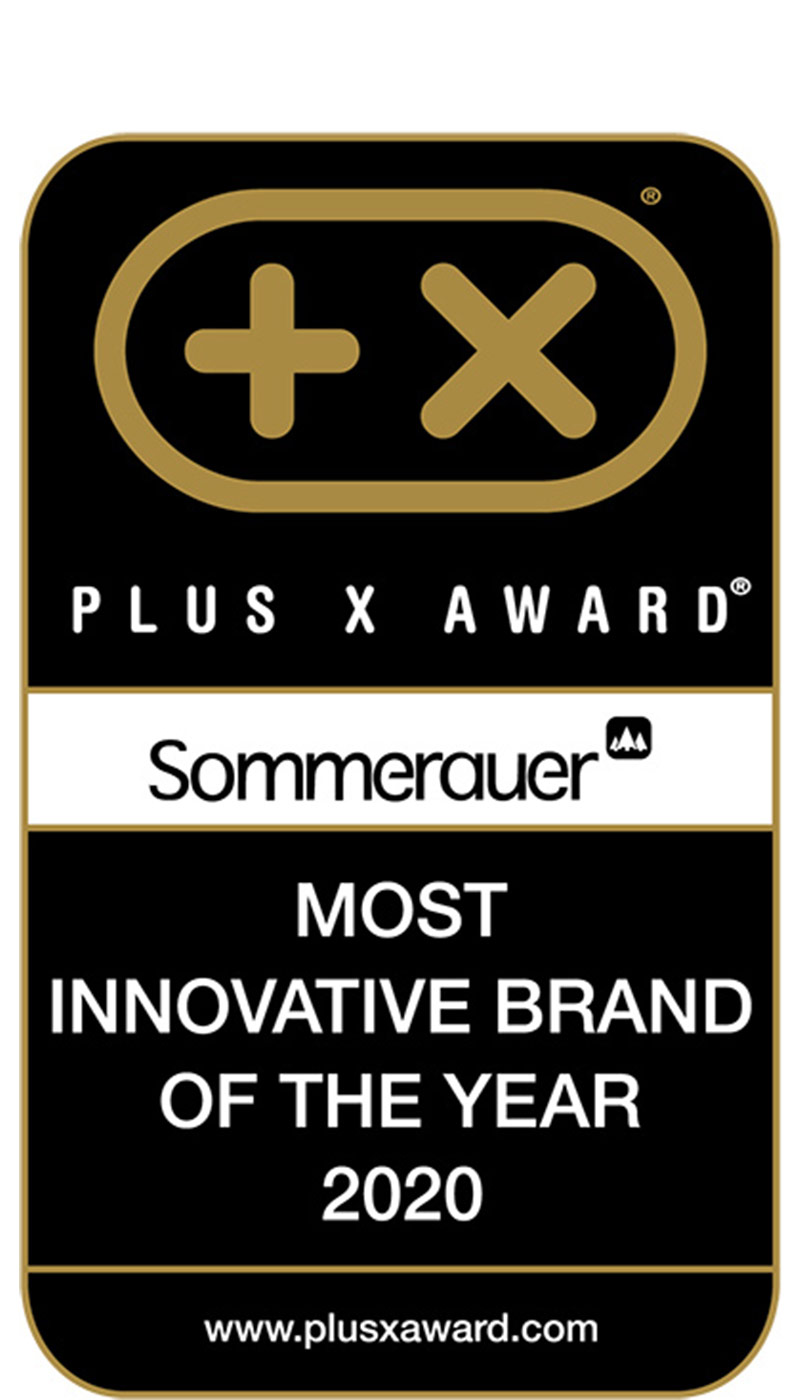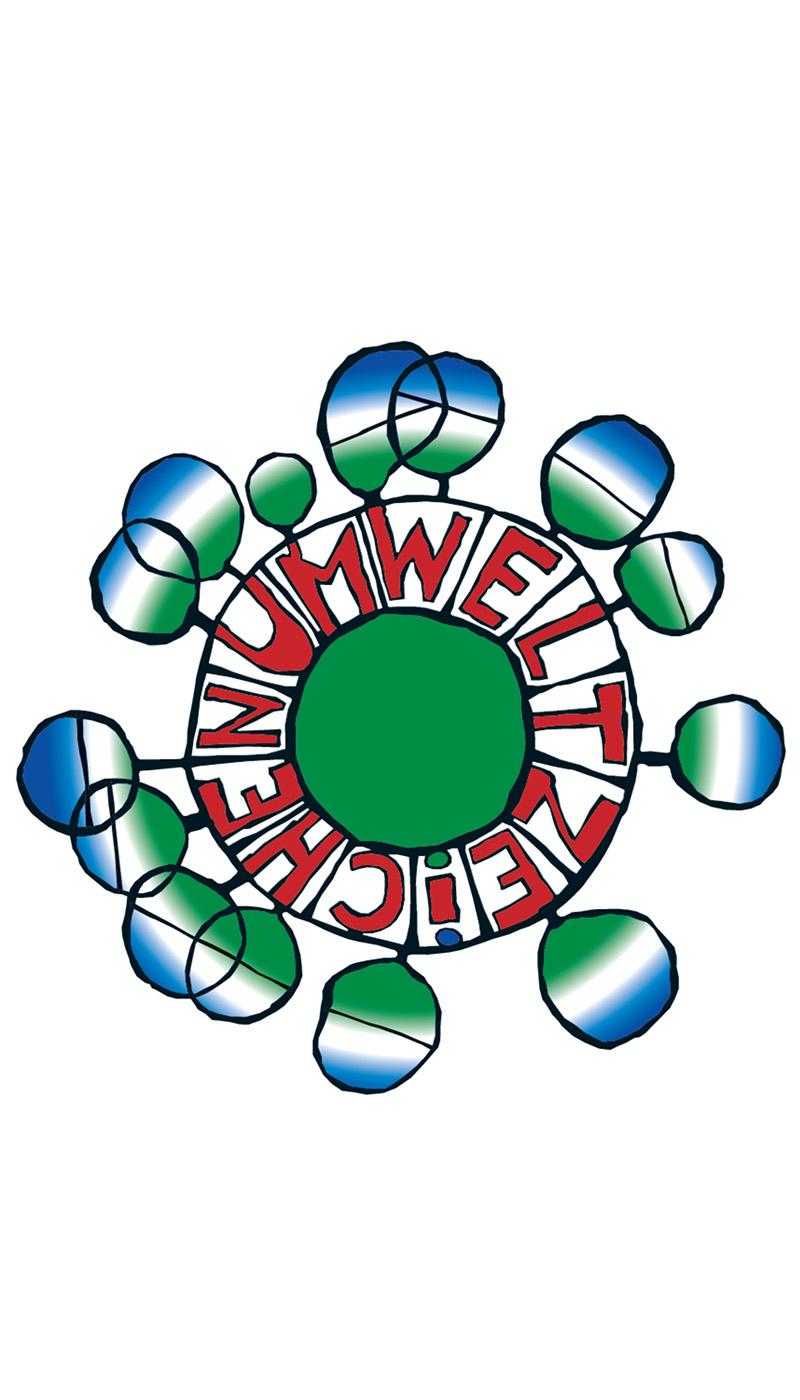 SOMMERAUER® APP WITH 1:1 FULL ACCESS
All functions of the ECOS user interface can be used!

 

Push messages on Apple Watch possible!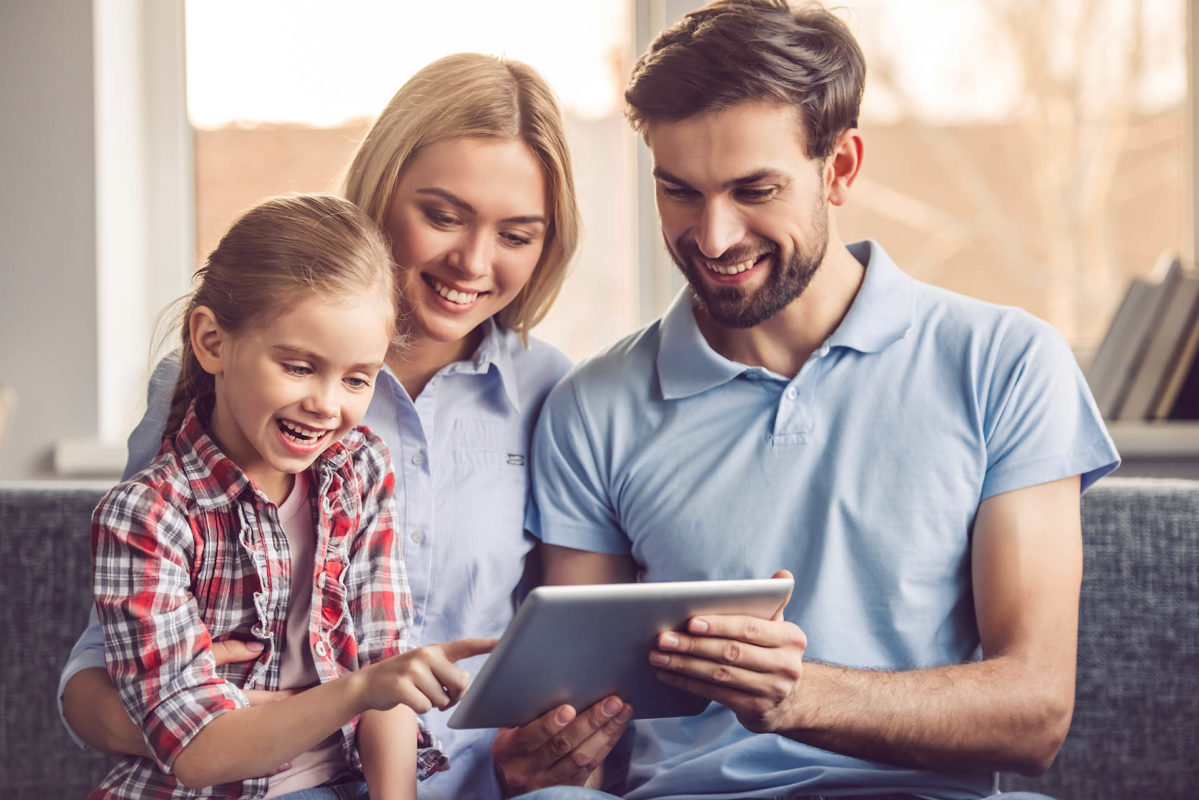 VOICE CONTROL WITH AMAZON ALEXA
Change room temperature by voice command!
Request weather data by voice command!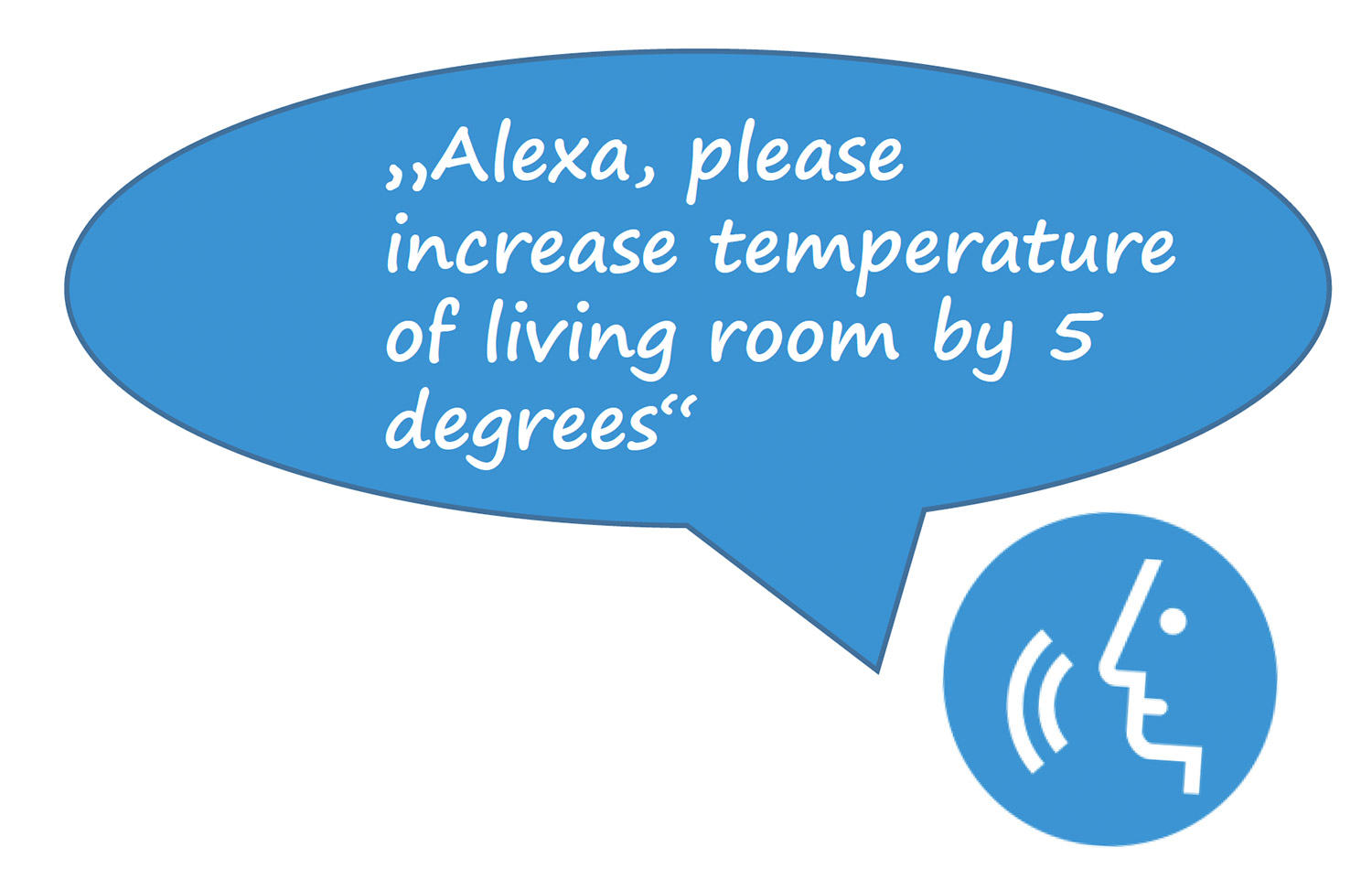 SMARTPHONE USER INTERFACE BIONIC
Operation with smartphone 3D icons with real-time data!
Most intuitive operation via 3D objects with swipe function!
Intelligent control ECO-Smarttronic (SmartHome)
SmartHome connection
Intuitive BIONIC operation (3D objects with real-time data and wipe function) 
Combination with photovoltaics 
Commissioning software wizard WIZARD
Up to 40% faster commissioning possible 
Process-safe commissioning by querying the software wizard 
Links software with hardware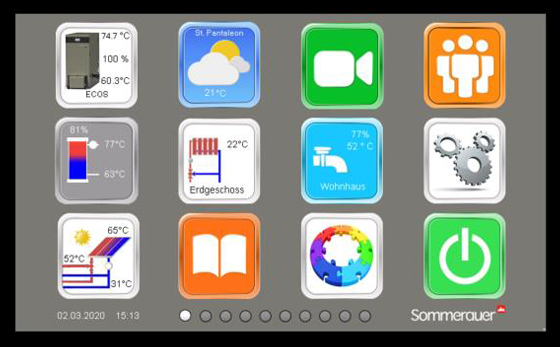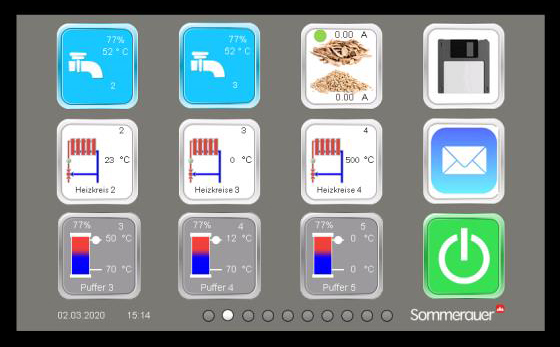 Weather data energy saving function ECO+
Heating with foresight 
Weather-controlled reduction of the buffer load 
Cost saving: fuel, mechanical and electrical consumption, electricity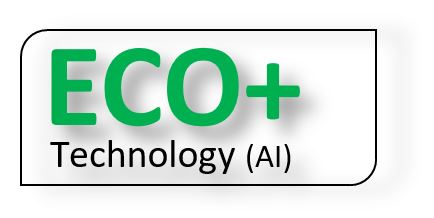 Digital operating instructions and video instructions
Instruction videos for practical applications 
Video instructions with hyperlinks in the table of contents, thus enabling targeted page searches 

Modern 3.5 inch room control unit
Modern 3.5 inch unit for flush-mounted box 
Integrated temperature sensor (intuitive smartphone interface for operation)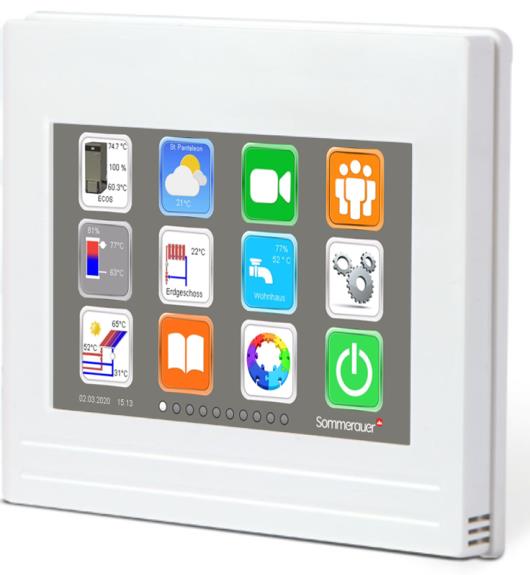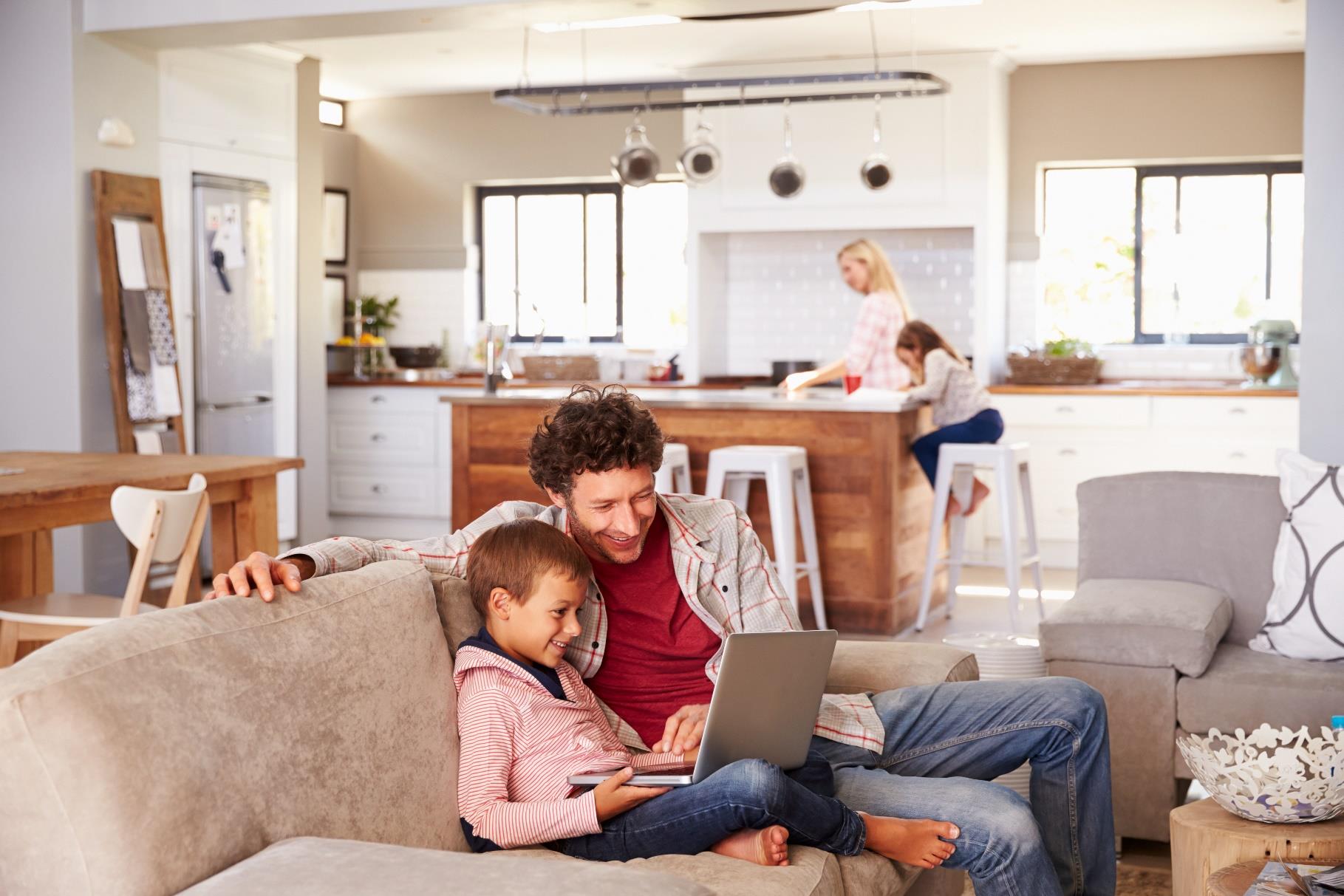 Contact us
Please contact us for any questions or a concrete offer.
Contact form
Please contact us for any questions or a concrete offer.
A decision for biomass is always a win. With a bit of luck, you can also win a voucher worth 1,000 euros when you buy a biomass heating system from Sommerauer.
We wish you good luck!
Sommerauerstraße 1
5120 St. Pantaleon